AQ Aluminium Scaffoldings Leading from the front!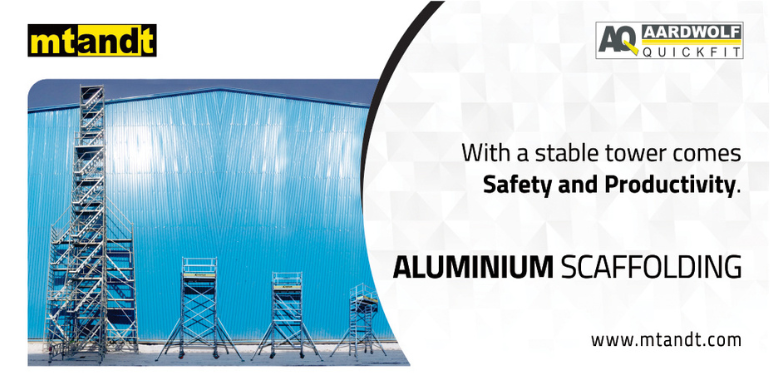 Driving Innovations for Safety and Productivity with AQ Aluminium Scaffoldings
Mtandt Group is India's leading Aluminium Scaffolding Manufacturing, Sales and Rental company. Our systems are engineered and customized to meet the site's unique requirements to provide an additional layer of security for the construction workers to access work at heights with maximum safety. The sense of safety in the minds of the working crew results in enhanced efficiency and productivity to promote growth.
Our systems have been designed and engineered with safety and productivity in mind, which has led to innovations that have become the first choice of working crew across every industry from Construction, Manufacturing, Aviation, Ports, Malls, IT buns, Warehouses and more.
With more than four decades of research and development, our quest to make Aluminium Scaffolding safer and better is a reality. We are the first company in India to achieve an 80-90% weld-less Aluminium Scaffolding manufacturing process that results in Increased Strength by one and half times more than the regular welding process.
In addition, The Tensile Strength of the hard alloy is T6, which makes it the best in the industry. The double-extruded accurate concentric pipe engineering enables weldless solutions. The stainless steel anchor joints and the cold-pressed spigot-moulded process has been used for enhanced strength and durability. Our system AQ conforms to the latest EN standard 1004:2021.
Our ultimate goal is to provide the utmost safety to the working crew and enhance productivity at the worksite with our AQ Aluminium Scaffolding System. With our continuous research and development, we are able to make the systems safer, studier, more environmentally friendly and cost-effective.