WEB Systems For Underdeck Access and Netted Safety Solutions!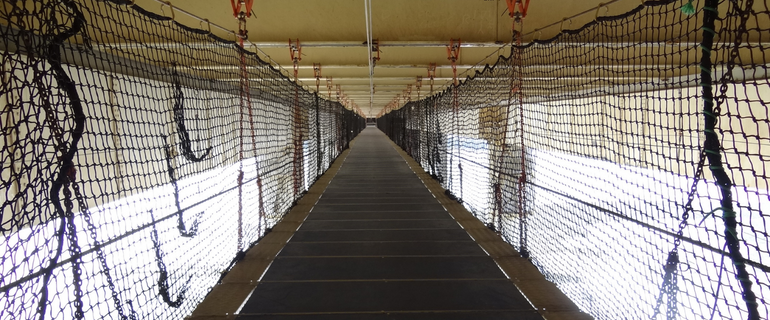 WEB Systems™ International is based in Scotland and brings to you a revolutionary new approach to accessing under-deck work areas at heights and provides protection against dropped objects. The solutions have been adopted by major corporations across the world to make access safer and easier as they built, repaired and maintained infrastructures.
WEB Systems™ comprising WEB Deck™, WEB Net™ and WEB Catch™ has been designed and engineered over several years to provide a safe working zone through a stable suspended work platform and dropped object protection solutions. These solutions are engineered with consideration to site-specific requirements. Once in place, these systems allow for work-at-height personnel to access the worksite safely and efficiently.
WEB Systems™ are compliant with all relevant safety regulations. The easy-to-install platforms offer great stability while being a cost and time-effective solution. It is an ideal system to carry out inspection, maintenance and repair tasks under Bridges, Piers, Viaducts, Jetties, Piperacks, Helidecks, Oil Rigs and High-Rise Constructions.
WEB SYSTEMS™ BENEFITS
The under-deck system is custom-made as per the site's unique requirements. The system enables up to 40% time saving with reduced installation cost. The systems are light in weight in comparison to conventional steel and aluminium frame temporary work platforms. When in place the system facilitates seamless movement of traffic when carrying out inspection and repair tasks.
OUR UNDER-DECK ACCESS SOLUTIONS
WEB Deck™ is a suspended under-deck access system with options for tidal situations that can be installed under bridges, pipe racks, onshore, offshore and more to carry out inspection, maintenance and repair tasks. It features a patented hook and clasp system which secures each WEB Deck™ unit to a tensioned wire rope system.
The decking system is installed by trained technicians to provide safe, stable and reliable access. It is a structural decking system that provides fall protection in construction, and maintenance tasks. The simple, modular, lightweight and strong design allows for rapid installation and dismantling. It is an ideal time and cost-effective solution in comparison to traditional methods.
WEB Net™ is a proprietary 'work positioning' or 'walk-on' netting system that has been designed to offer safe and reliable access to maintenance teams to carry out lighter works safely at height. It exhibits excellent tensile strength with less than 5% deflection making it an exceptionally stable 'walk-on' net, in comparison with standard netting.
The construction safety net is flame retardant, has lower load weight, and has safer installation & dismantling, making WEB Net™ an ideal choice for high-rise construction projects, the underside of bridges, pipe racks, and conveyor systems.
Operatives who work from the net are attached to a primary twin rope or wire rope safety system to arrest falls. This ensures they comply with Work At Height 2005 and BS7985 2002 regulations. These operatives only require to be trained for work at height to work from the WEB Net™.
This multifunctional system can be altered to provide heavyweight debris containment, site protection, over-side containment and work separation enabling safety and productivity.
WEB Catch™ is a multi-level dropped object protection system that safeguards the working crew from the free-falling construction debris that could potentially be fatal.
The netting solution exhibits high-tensile strength and each project is engineered with consideration to specific site requirements for partial or total containment of the work site, allowing for smooth completion of tasks.
WEB Catch™ Systems are cost and time-effective alternatives to scaffolding for difficult access work areas. Typical deployments include under bridges, offshore installations, construction projects etc and are installed by our rope access expert partners.
WEB Systems™ International has partnered with reputed installers across the world to provide quality service that meets safety and productivity. The rope access experts enable hassle-free installation so that you can work under the deck and not under stress.